Merry Christmas
Christmas time is a great time to celebrate friends, family, and the spirit of giving. A ravaging wildfire may have caused destruction in our area, but from this we see that the Christmas Spirit is alive and well in our area. So many local businesses, residents, and visitors have stepped up to make sure that everyone in our area has a very Merry Christmas and remembers the reason for the season! There are truly angels walking among us.
Check out this post for some fun activities to do with the family, yummy recipes, and a few options to enjoy Christmas dinner out on the town!
Make a snow globe
You'll need: a glass jar with a tight-fitting lid; a plastic figurine; waterproof glue; distilled water (you can also use boiled and cooled tap water); liquid glycerin (available at crafts stores); glitter. Let your child pick out the figure, then glue it inside the lid and let the glue dry. Fill the jar with water, a squirt of glycerin (it helps the glitter swirl) and the glitter. Screw on the lid tightly, then flip!
Give Peace a Wreath
Paint clothespins and an embroidery hoop.
Glue clothespins onto the hoop.
Cut two felt leaves and glue near the top of the hoop.
Glue small felt circles and buttons to the leaves.
Thread a string through the top of the hoop.
Cut a dove shape out of felt. Glue a teardrop wing to each side. Decorate with feathers.
Add a black-marker dot eye to dove.
Pierce the beak of the bird with a scissor tip and slide a one-inch piece of white floral wire through the slit to make an olive branch.
Attach two felt leaves to each end of the wire.
Glue dove to the wreath.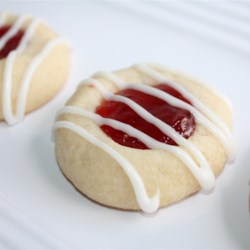 Raspberry and Almond Shortbread Thumbprints
"Shortbread thumbprint cookie filled with raspberry jam, and drizzled with glaze."
Ingredients
1 cup butter, softened
2/3 cup white sugar
1/2 teaspoon almond extract
2 cups all-purpose flour
1/2 cup seedless raspberry jam
1/2 cup confectioners' sugar
3/4 teaspoon almond extract
1 teaspoon milk
Directions
Preheat oven to 350 degrees F (175 degrees C).
In a medium bowl, cream together butter and white sugar until smooth. Mix in 1/2 teaspoon almond extract. Mix in flour until dough comes together. Roll dough into 1 1/2 inch balls, and place on ungreased cookie sheets. Make a small hole in the center of each ball, using your thumb and finger, and fill the hole with preserves.
Bake for 14 to 18 minutes in preheated oven, or until lightly browned. Let cool 1 minute on the cookie sheet.
In a medium bowl, mix together the confectioners' sugar, 3/4 teaspoon almond extract, and milk until smooth. Drizzle lightly over warm cookies.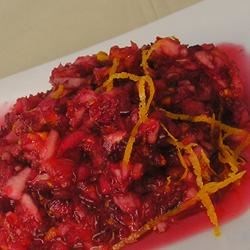 "This relish has a great flavor especially with the addition of celery! Chopped pecans or walnuts can be added if desired."
Ingredients
2 navel oranges
2 (12 ounce) packages cranberries
2 apples - peeled, cored and chopped
2 celery, chopped
3 cups white sugar
Directions
Grate peel of orange; reserve. Peel oranges and discard white membranes. Separate oranges into sections and place half in a food processor or blender. To the food processor add half of the cranberries, apples and celery. Process until coarsely chopped. Transfer to a bowl; repeat with remaining oranges, cranberries, apples and celery. Stir in sugar and reserved orange peel. Cover and refrigerate overnight.
Restaurants open on Christmas Day: (Not an exclusive list, call restaurant for confirmation)
Corky's Ribs and BBQ
Hard Rock Cafe
Captain Jim's Seafood Buffet
IHOP
JT Hannah's
Regan's House of Pancakes
Calhoun's Pigeon Forge
Applewood Farmhouse
Blaine's Grill
Bubba Gump Shrimp Co
Calhoun's Restaurant
Crawdaddy's Restaurant and Oyster Bar
Crystelle Creek
Flapjack's Pancake Cabin
Johnny Rocket's
Loco Burro Fresh Mex Cantina
No Way Jose's Cantina
Puckers Sports Grill
Seasons of Ober Restaurant
Slice Pizza Bakers
The Smoky Mountain Brewery
TGIFriday's
The Melting Pot